Shower doors for tub and shower combos have become incredibly popular over the last few years, and it's not hard to see why! Bathtub and shower combos are common in many homes. It's a space-saving solution to provide both a bathtub and a shower. In smaller spaces where a separate shower enclosure isn't an option, these can offer the best of both worlds. You can turn your bathroom into an even more luxurious space by installing glass bathtub enclosures in your home.
Why Install Shower Doors on Tub & Shower Combo?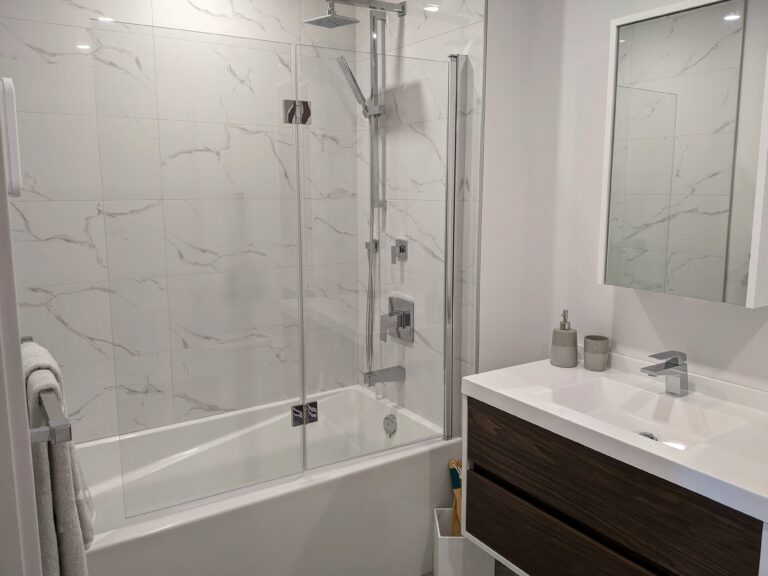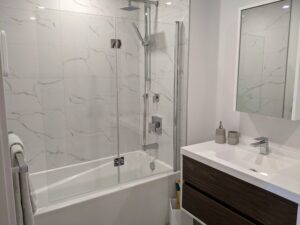 Tub and shower enclosures are a simple upgrade that can offer you many benefits. They can help add value to your home and make your bathroom even more functional and stylish.
Most homeowners choose sliding shower doors for tub & shower combos. There are a few reasons for this. First, it is easy to install sliding doors on straight bathtub edges. Therefore, sliding doors are often the most economical shower doors for tub and shower combos. Also, these allow you to enter the tub and shower from either side. Finally, sliding tub doors are often easier to use for children and people with mobility issues. They often use handles that double as towel holders for easy drying off after a nice relaxing shower or bath.
A glass bathtub enclosure is a serious step above a shower curtain and offers many perks for your home. They are easy to clean, look great, and also help keep your shower and tub watertight. 
Shower Doors for Tub are Easy to Clean
A major benefit of installing glass enclosures for your bathtub and shower combo bathroom is they are easy to clean and maintain. Unlike a shower curtain, you don't have to worry about replacing a shower glass door every couple months due to mold and mildew. Glass tub enclosures are super easy to clean and resist mold and mildew better than shower curtains. In most cases, all you need to do is get rid of extra water after a shower with a squeegee and wipe them down with a cleaning solution once a week or so. They also last a lot longer than shower curtains, yet are a low-maintenance solution for your bathroom. 
Glass Bathtub Enclosures Look Sophisticated
Another reason many are making the switch to sliding shower doors for their bathtub and shower combo bathrooms is they look fantastic. Glass enclosures look ultra-modern and fit practically any aesthetic. They give a spa-like feel to your bathroom and can even make it look bigger. Shower curtains divide your bathroom space and block out light. Instead, glass doors help give a nice, open feel and can brighten up your space.
Glass Doors Keep Water Inside
A shower glass door for your tub and shower combo also helps keep water in better than a flimsy shower curtain. This is important, because water that spills on the ground can increase the risk for mold and mildew in your bathroom, cause water damage to your flooring, and can make your floors slippery! Glass enclosures help keep the water inside your tub whether you're showering or you have a little one who loves to splash in the bathtub. 
Get Your Next Shower Glass Door from Shower Doors Inc.
Looking for gorgeous glass for your bathroom? Our professionals are here to help at Shower Doors Inc! We offer custom glass for your shower and tub enclosures to help you enhance the look and function of your bathroom. As a leading shower glass company, we have the perfect solution for your next shower update or bathroom remodel. Give us a call at (281) 253-0701 to learn more and get a free quote!