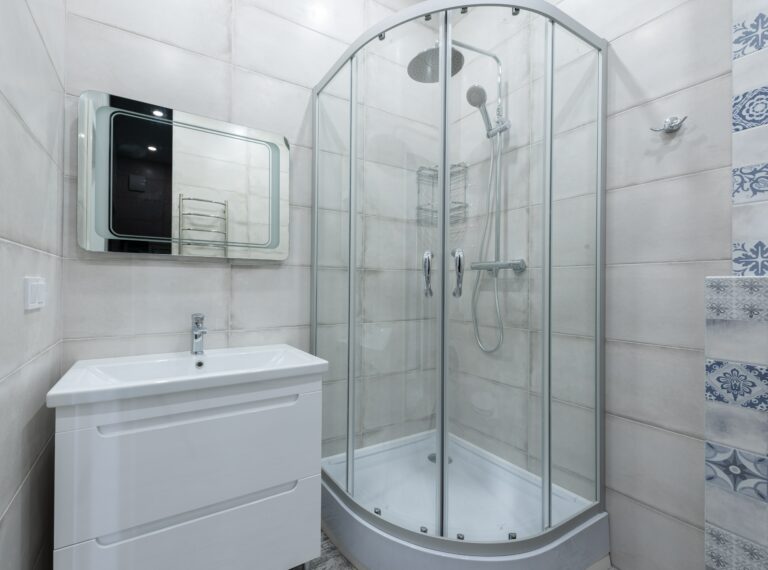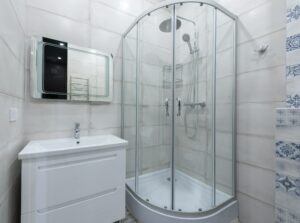 Houston glass shower enclosures are a modern, beautiful addition to any bathroom. Shower enclosures should be customized to suit your space and your style, and our glass technicians are here to help. This article can help you explore some basic options to choose from for your shower, including the enclosure shape, door type, and glass options to tailor your new shower to your bathroom. 
Customizing Houston Glass Shower Enclosures to Your Space
There are many different types of Houston glass shower enclosures. The shape of your enclosure affects the look of your bathroom and also your morning shower routine. Shower enclosures are made up of tiled walls, fixed glass panels, and Houston shower doors to create your luxurious shower space.
In many cases, the shower pan you choose affects the configuration of your shower doors and glass. For instance, if the shower tray is square, the glass needs to form a square. Therefore, from the very beginning it's important to consider the shape and layout of your new shower enclosure. Here are a few different options to choose from for your new shower.
Corner Shower Enclosures
Corner shower enclosures are common in smaller bathrooms, as they work well to save space. A corner shower enclosure can be shaped like a square or rectangle. It can also be shaped similar to a pie slice if you choose curved doors. Much of this depends on the layout of your bathroom and how much space you have. For instance, if you have limited space, a square-shaped corner enclosure may work best. If you have a little more wiggle room, opt for a rectangular-shaped corner shower to give yourself more shower space. In both cases, you can also use curved doors to help optimize usable shower space if your bathroom is on the smaller side.
Square Houston Glass Shower Enclosures
Another type of shower enclosure is a square enclosure. We mentioned that corner shower enclosures can be square or rectangular, but when we say a square enclosure, we mean square enclosures not located in the corner of your bathroom. Instead, these use one wall of your bathroom and three glass walls to create a shower enclosure that really stands out. These Houston glass shower enclosures typically work best in larger bathrooms with plenty of space. 
Rectangular Shower Enclosures
If you have even more room, then you can create a rectangular shower enclosure for your bathroom. This is like the square enclosure, in that it's made up of one tiled wall and three glass walls, but shaped like a rectangle. This uses more floor space in your bathroom, but also gives you more room in your shower. Like the square enclosure, rectangular enclosures can easily become the focal point of your bathroom with three walls made of high quality Houston shower glass. Therefore, you definitely want to choose stylish tiles and fixtures to make your bathroom feel even more modern and spa-like.
Neo-Angle Houston Glass Shower Enclosures
Neo-angle shower enclosures typically use a corner shower space. However, there are a few importance differences between neo-angle and corner showers. Neo-angle Houston glass shower enclosures form a diamond shape. This helps save floor space while maximizing usable space inside the enclosure. In addition, this means Houston shower doors on neo-angle enclosures are diagonal from the corner of the bathroom. This is a great option if hinged doors on a corner shower enclosure bang into other fixtures like the vanity or toilet. These also offer a unique look for your bathroom. 
Alcove Houston Glass Shower Enclosures
Alcove shower enclosures are also a common option that may work best for your bathroom. These shower enclosures use three tiled walls and just one glass wall to create your shower space. You frequently see these in bathrooms where homeowners took an old alcove tub and turned it into a walk-in shower instead. This is a great space saver and can help you make your bathroom more functional if you rarely use your bathtub. With these enclosures, typically you will have one or two smaller fixed glass panels and a shower door to allow access to the shower alcove. 
Options for Houston Shower Doors
In addition to the shape of your Houston shower glass enclosures, it's also important to consider which types of doors work best for your bathroom. There are many different types of shower doors that may work well for your space. In some cases, the type of doors you choose affect the shape of your shower enclosure and vice versa, so it's important to plan ahead for your shower remodel.
Hinged Doors
Hinged doors use hinges that connect either to the wall of your bathroom or to a fixed glass panel for your shower enclosure. This allows them to swing outward, just like the other doors in your home. These are a traditional option and utilize minimal hardware. However, keep in mind that you need plenty of floor space in front of the door. Otherwise you may find that the door bumps into your toilet, vanity, or bathtub every time you open it.
Pivot Doors for Houston Glass Shower Enclosures
Pivot doors are similar to hinged doors. They open outward to let you into your Houston glass shower enclosures. The difference is that they use pin-like hardware on the top and bottom of the door like an axis. This allows the door to open slightly more than 90 degrees. In some cases, this can also help save some space needed for easy opening, in case you just need a couple extra inches of clearance than a hinged door offers to avoid banging the door into other bathroom fixtures. 
Sliding Houston Shower Doors
Sliding doors are the way to go if you need to save floor space. Because they slide side to side, you don't need to worry about having a lot of room in front of the door. However, keep in mind that the opening for your shower needs to be pretty wide to use sliding shower doors. We generally recommend only using sliding shower doors with an opening of a minimum of 48 inches. This allows the door to slide to the side and give you a 24 inch opening to enter and exit the shower. 
Bi-Fold Doors for Showers
Bi-fold shower doors are another option if you don't have the space for a hinged or pivot doors. These use hinge hardware in the middle of the door that allow the glass panels to fold up like an accordion. This works well in showers that have smaller openings but still need to save floor space in front of the shower door. Just keep in mind that these do come with more hardware than the other options, which some people love and some people hate. 
Houston Shower Glass Options
Of course, no shower is complete without the right type of glass. While you can generally decide on the type of glass to use a little later in the process, there's no harm in getting a head start on designing the elements of your new shower enclosure! Glass options include clear, frosted, and textured to suit your décor. Textured and frosted options give you more privacy while inside the enclosure, while clear glass is great for maximizing natural light and showing off the tile accents in your shower.
Beautiful Shower Solutions in Houston and College Station from Shower Doors Inc.
Our team at Shower Doors Inc. is here to create the bathroom of your dreams with shower glass solutions. We understand that the bathroom is one of the most important rooms in your home, and we are here to make it stand out with beautiful glass shower enclosures. Our experienced team offers comprehensive services, from shower enclosure measurement and design to installation. Get in touch now for a quote for your new shower in Houston or College Station.