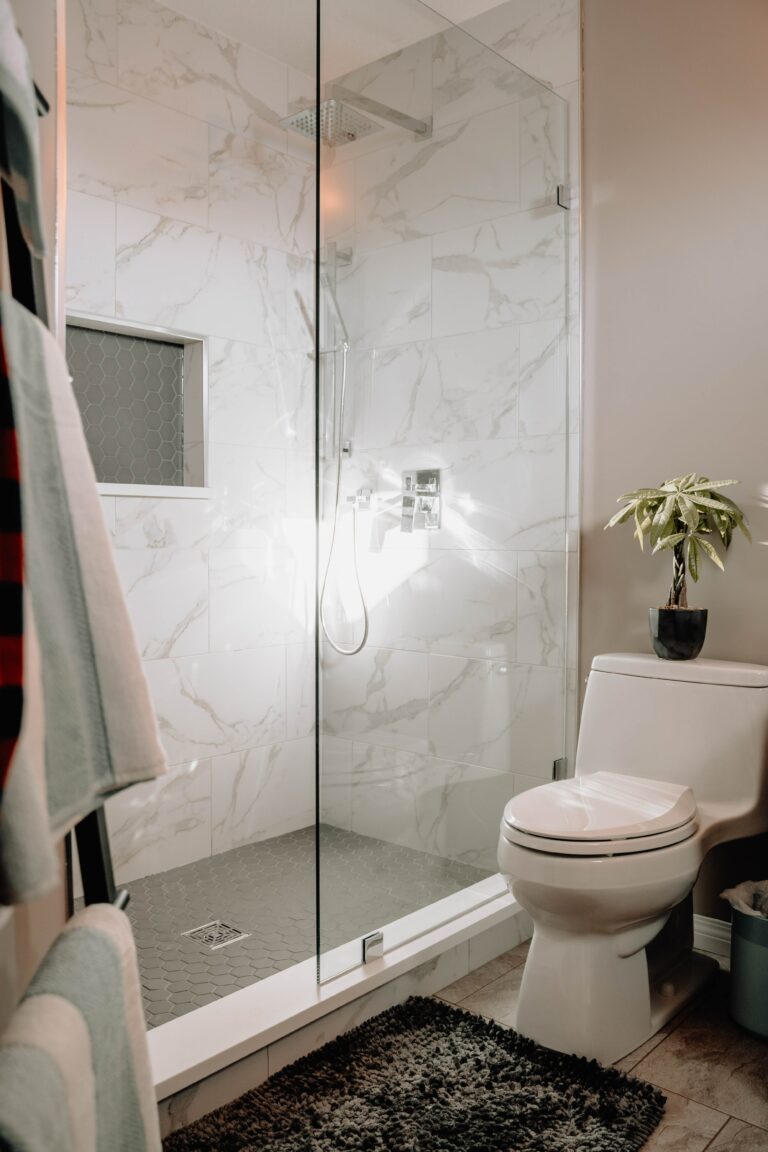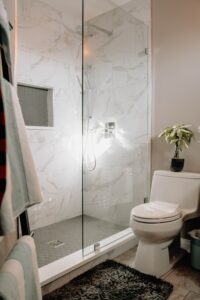 Upgrading to Houston frameless showers in your bathroom is a great way to enhance your home and its value. One new trend for showers is to create an enclosure that doesn't use a door. Instead, you simply walk right in and do your thing. Of course, this set up comes with several pros and cons and these showers absolutely must be designed correctly for the best results. If you're exploring your options for a new shower, there are several things to consider before choosing a doorless shower enclosure. 
What are Doorless Houston Frameless Showers?
If you haven't seen this recent trend for Houston glass shower enclosures, we'll help you get up to speed before we discuss the particulars of creating a doorless enclosure. A doorless shower is exactly what it sounds like, it's a walk-in shower without a door. Instead of a door, there's an opening to let you into the shower. A doorless shower enclosure still needs walls to help keep water contained while you shower, though. Most people use fixed glass panels to help with this, as they are easier to clean and resist mold compared to tile walls. 
Benefits of Doorless Houston Glass Shower Enclosures
If you're considering going doorless with your shower, there are many benefits to choosing this option. As you think about your shower remodel, you're likely thinking a lot about the look. After all, doorless showers look modern and minimalistic. However, there are other advantages that doorless showers offer.
Doorless Houston Frameless Showers are Easy to Clean
Cleaning Houston frameless showers is already incredibly easy, especially compared to shower curtains. However, most of us would agree that the less time spent on cleaning, the better. Doorless showers can help make your bathroom cleaning routine easier. Doorless showers mean one less surface to clean for your shower enclosure.
Also, Houston shower doors almost always have fixtures like handles, towel bars, and hinges. These are usually made from metal materials that need more sensitive cleaning procedures. With no door, there's less worry about cleaning shower door accessories. 
Doorless Shower Enclosures Help Open Up Your Space
Another great reason to choose a doorless shower is that it can help make your space look bigger. Houston glass shower enclosures already help keep your space looking large and spacious. Doorless showers can take it one step further. With frameless fixed glass panels making up your shower, there's nothing to interrupt your sight as you look at your bathroom. Bigger bathrooms are always a plus and can add a lot of value to your home. So, creating the appearance of even more space can also be to your advantage. 
Accessibility is Simple with a Doorless Enclosure
Doorless showers are also a good option for bathrooms that need more accessibility. These shower enclosures keep obstructions to a minimum. There are no doors to open to get in the shower, and these showers also often feature a curbless design so you don't have to worry about stepping over the shower pan edge. This is great for family members with mobility issues, arthritis, or even just to help reduce the risk of your kids tripping while getting into the shower. 
Some Disadvantages of Ditching Houston Shower Doors
While doorless shower enclosures offer many advantages, they're not ideal for everyone. They also have some disadvantages, too. It's good to look at both the pros and cons to decide if you want to install a doorless shower enclosure in your bathroom. Doorless showers often feature several elements that can increase the price of installation. For instance, curbless shower floors and the need for more space to help prevent water from splashing onto other bathroom surfaces. There are some other drawbacks too. 
Your Houston Frameless Showers Will Feel Drafty
Having a nice, warm, steamy shower at the end of a long day is something many of us look forward to. Picture you're in the shower relaxing and feel a slight chill. It can make the experience a little less cozy. Well, with a doorless shower, things can get pretty drafty. Without a door to seal in the warmth and steam, your showers might feel a little cooler and draftier. While many people don't mind this, a lot of people find this an uncomfortable experience. So, it's important to keep this in mind if you're considering ditching the door to your shower enclosure.
Less Privacy with Doorless Showers
One of the great things about glass shower enclosures is that you can use practically any type of glass, including frosted and textured options for privacy. You can definitely still choose these options for fixed glass panels in your doorless shower. However, without a door, there is much less privacy than showers with them. There's no real way to totally block yourself from view in the shower if you choose a doorless design, so this is something to think about. 
Showers without Doors can Let Moisture Infiltrate Your Bathroom
We mentioned this briefly when we talked about doorless showers being drafty, but Houston shower doors help trap steam from your hot shower. This can help with comfort, but it also helps with a more practical issue. You see, moisture from your steamy shower can cause a lot of damage to your bathroom, depending on its design. 
For instance, if you have just painted drywall throughout your bathroom, a doorless shower can expose it to water damage and mold. And let's not forget wood vanities and cabinets that can swell when exposed to a lot of steam and moisture. Doors can help keep this extra steam contained to an area that is made of waterproof materials. 
With a doorless shower, you should consider if your entire bathroom is waterproof. For example, if you're going to choose a doorless shower, you may need to remodel your bathroom to use waterproof materials throughout, like floor to ceiling tile and water-resistant vanity and cabinet options. These are almost always necessary when you choose a doorless shower.
Tips for Designing Doorless Houston Frameless Showers
If you're interested in a doorless shower, our team can help you design an enclosure customized to your bathroom. However, we do have some general tips to share in this article as you're doing your research. 
Choose your shower head wisely. The shower head you choose can make or break a doorless shower, as it affects where the water sprays and whether it stays contained in your shower area. There's no door to stop the splashes. Most people opt for an overhead rainfall showerhead to help stop this. 

Showerhead placement is also important. You want to make sure the showerhead you choose is pointed away from the doorless opening. 

Work with shower specialists to create your doorless shower enclosure. The placement of your fixed glass panels can make a huge difference on whether water ends up outside of your shower area. 
Gorgeous Shower Glass in Houston and College Station from Shower Doors Inc.
We make installing and replacing shower glass simple at Shower Doors Inc. Our experts offer years of experience. We understand how important your bathroom is and we are here to help you customize your shower to your needs and taste. Contact us today to get a free quote for your shower enclosure vision.