There are many reasons to consider Houston shower doors for a tub. These gorgeous glass options enclose your bathtub for an even better bath and shower experience. One important reason to consider installing glass doors for your bathtub is because they help provide a barrier to stop water splashing out and onto your floors and other areas. 
Houston Shower Doors for a Tub Help Prevent Water Damage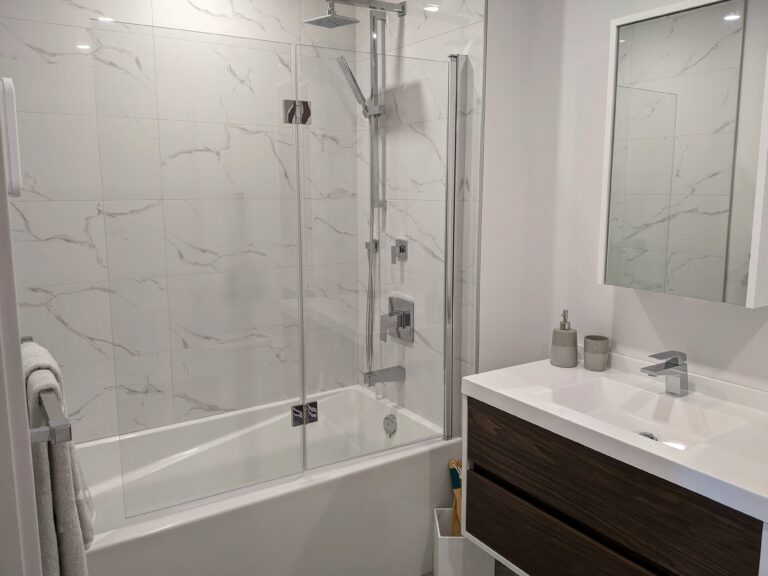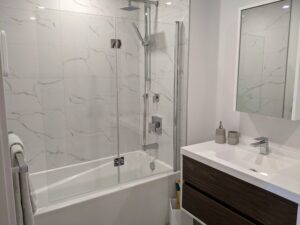 Water damage is a serious issue. If you have a bathtub shower combo in your home, you might be using an old shower curtain. Yet, these really aren't up to the job of keeping water splashes out. Water splashed from the tub or shower can cause major damage to your home, including:
Loose flooring

Mold and mildew on nearby walls and floors

Bubbled ceilings under the tub

Discoloration on floors, walls, and ceilings
Installing Houston shower doors for a tub can help stop water in its tracks, whether you're taking a shower or bathing your very splashy kids. These doors create a watertight enclosure that prevents water from getting to the rest of your bathroom. 
Another great reason to choose glass doors for your tub instead of shower curtains is that they are much easier to clean and also resist mold and mildew. Therefore, you get peace of mind you're protected against both water damage and mold when you choose glass enclosures for your bathtub. 
Types of Shower Doors for Bathtubs
If you're looking to install Houston shower doors for your bathtub, there are many options to choose from. First, it's important to note that these solutions work best for alcove tubs with mostly straight lines. Installing shower doors on a curved clawfoot tub is often much more difficult, though our team is always here to help you find the right options for your home. 
There are many ways you can customize the Houston shower doors for your tub. For example, how do you want to open the doors so you can step into the bathtub? Many people choose sliding options, but you can also install hinged doors if you prefer. 
In addition, the hardware you choose for your doors has a big impact on your glass bathtub enclosure. You have many different options to choose from, including shape, style, and finish. For modern bathrooms, it's common to use hardware with angular lines and in matte black finishes. For more traditional-style bathrooms, opt instead for softer lines and chrome finishes. 
Let's not forget the glass itself. You have many different options for your Houston shower glass. Clear is one of the most popular, but you can also choose ultra-clear or textured options. If you want to maximize the amount of visual space and light inside your bathroom, choose ultra-clear doors made from low-iron glass. However, if you're after a little privacy, you might want frosted or textured glass. 
Shower Doors Inc. – Quality Shower Glass Solutions in Houston and College Station
If you're considering installing shower doors for your bathtub or your walk-in shower, our team at Shower Doors Inc. offers affordable, high quality options. We pride ourselves on superior craftsmanship to help you design and install shower doors and enclosures that meet your needs and aesthetic. Get in touch today to get a free quote for your new shower doors!