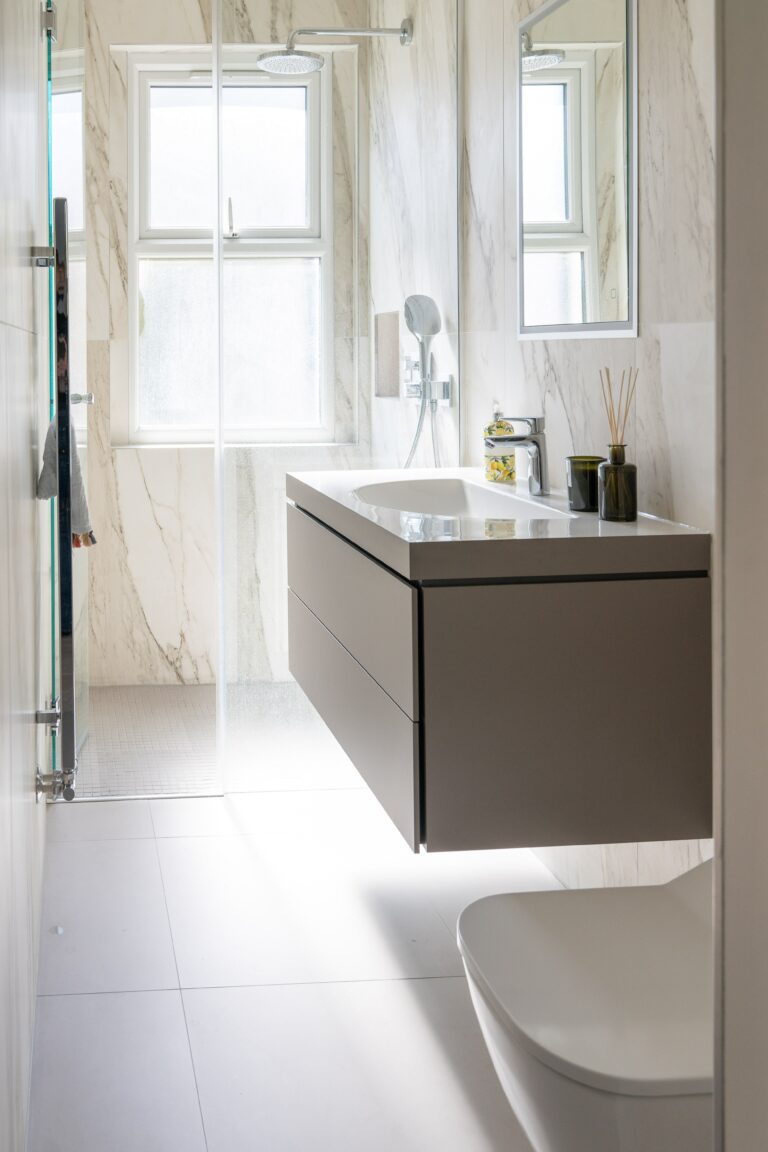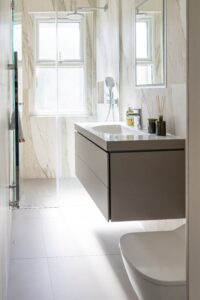 Thinking about an upgrade for your shower? Frameless showers offer a ton of benefits for your home! Frameless glass is the number one choice for modern bathrooms, and it's not hard to see why. In this article, we'll go over some of the perks of choosing frameless shower enclosures.
Why Install Frameless Showers in Your Home?
There are many reasons to consider installing frameless shower doors and glass walls for your shower enclosure. More and more homeowners are choosing to install these gorgeous showers in their homes, and for good reason! Frameless glass offers an instant facelift for your bathroom. So, whether you're doing a complete remodel or just want to update the shower enclosure, consider going frameless to reap the many benefits. 
Frameless Shower Doors Make Bathrooms Look Bigger
We don't know about you, but we don't know many people who would wish for a smaller bathroom. Large, spacious bathrooms feel more luxurious and relaxing. Let's not forget that large bathrooms can add value and be major selling points for homes.
Of course, not everyone can just knock down some walls to make a bigger bathroom. Instead, many homeowners look for solutions that help make bathrooms look and feel bigger. Frameless glass is a great way to achieve this. 
There are a few things to keep in mind about making a room look more spacious. First, you want to keep lines of sight as open as possible. Anything that blocks off the room or shows a clear division can easily make your bathroom look smaller. 
Frameless shower glass can help with this. Take a look at your shower right now. There's a good chance you have either a shower curtain or framed glass to keep the water inside. Shower curtains almost always visually section off the shower from the rest of the room because most aren't see-through. Even the prettiest shower curtain does your bathroom no favors as far as the illusion of space. Framed glass can also be a bit of a problem, as the metal surrounding the glass can also interrupt lines of sight and show a clear divide in the room. By contrast, frameless glass completely opens up your space because there's nothing that stops you from seeing the bathroom as a whole, with the shower included. 
Frameless Showers Let in More Light
Another great reason to install frameless showers in your home is they let in a lot more light than a shower curtain. More light can also instantly make your bathroom look bigger and can also help with visibility for your shower routine. 
Whether you have mostly artificial or natural light in your bathroom, shower curtains can block light from entering the shower enclosure. This can leave you squinting in dim light looking for your shampoo or razor. Even light-colored shower curtains are typically only slightly translucent, which means they block out most of the light. This can be not only an irritation for you and the whole family, but maybe even a safety hazard if it's really dark in your shower enclosure. 
Instead, frameless shower enclosures let in plenty of light to help brighten the room. Brighter bathrooms means they not only look bigger, but also give you plenty of light for your shower routine. Even more private glass options, like frosted and patterned glass let in tons of light even if you can't see into the shower enclosure from the outside, so you get the best of both worlds!
Shower Glass is Easy to Clean and Maintain
Compared to shower curtains and even framed shower enclosures, frameless enclosures are incredibly easy to clean and maintain. This can help you keep soap scum, hard water stains, mold, and mildew at bay in your bathroom. 
When it comes to cleaning, it's probably safe to say most of us would like to make it easier and faster. Shower curtains and framed shower doors, however, can make cleaning your shower enclosure tedious.
In many cases, you might wait to clean and sanitize shower curtains until you notice a problem, such as a pink film that signifies bacterial growth or dark spots that might be mold. A lot of people simply throw the curtain away and purchase a new one at this stage, which can cost a lot in the long-run for frequent replacements. Others may try to clean them by throwing them in the washing machine or soaking them in a cleaning solution. This can take a lot of time and may not be very effective once the shower curtain becomes gross. 
Framed glass is easier to clean than shower curtains, but still has some downsides. Primarily, the metal frames around the glass can get gunked up with a lot of stuff, like soap scum, mold, and hard water. These can be difficult to keep clean. There are many places for germs, mold, and grime to hide around and inside the frames. 
Frameless showers, by contrast, keep nooks and crannies to an absolute minimum for easy cleaning. All you need to do for these doors and shower walls is dry them off after each use and give them a quick wipe-down about every week or so. Because they're easier to keep clean, they also help reduce the risk of potentially dangerous mold and germs growing in your shower. 
Going Frameless Looks Modern and Luxurious
Also, let's not forget just how great frameless enclosures look! Of course there are many practical benefits of frameless showers, but they can also help make your bathroom look more spa-like. Frameless glass looks incredibly modern and elegant. These enclosures can enhance the look of practically any bathroom. No matter your aesthetic, there are options to suit your bathroom. There are many different types of enclosures, glass, and hardware to choose from to completely customize your enclosure to create a beautiful addition to your home.
Emphasize Bathroom Décor with Frameless Showers
Frameless shower doors are also a great way to show off your bathroom's décor. After a shower renovation, you likely have tile that you paid good money for in the enclosure. Why not show it off? Well, with frameless glass, you can! Rather than hiding gorgeous elements in your shower behind a curtain, consider adding frameless glass so everyone can see the beautiful tile you picked out for your shower. 
Frameless glass also helps keep distractions at a minimum so you (and your guests) can focus on more important elements. Sometimes, curtains and framed glass can draw the eye and detract from the rest of your bathroom. Instead, frameless enclosures allow the eye to take in every detail, from paint colors to the decorations you spent a lot of time and hard work picking out. 
High Quality Glass Solutions for your Shower
When you need gorgeous glass for your shower enclosure or doors, our team at Shower Doors Inc. has you covered. We offer years of experience to help you design and install a gorgeous, bespoke shower in your home. We back up every project we take on with a two-year warranty on craftsmanship and hardware for your peace of mind. Call us now at (281) 253-0701 for a free quote!