Shower Doors Inc. can help you renovate the tubs and showers in your home and bring them into the 21st century. Our team has developed tried-and-true guidelines for shower replacement in Houston to ensure you are getting the most out of your remodeling and renovation needs.
Taking on a project like a master bathroom renovation can sometimes be daunting and stressful; however, it's often well worth the investment for updating your bathroom. You and your family will reap the benefits of having a tranquil, modern bathroom. Updating your shower can also increase the resale value of your home, not to mention increasing your enjoyment of your own bathroom.

Shower Glass Options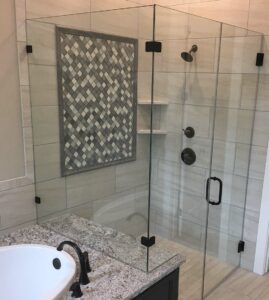 Choosing the right glass for a shower replacement is a personal choice and can improve the aesthetic of the space. If you want to show off your shower tile, a minimalistic glass look is best using basic, clear shower glass. The goal is to choose glass that is best suited to your personal decorative style.  Keep in mind that the minimalist option of clear shower glass doesn't offer much privacy when showering. If you're interested in more privacy while showering, consider our satin frosted glass or rain glass for your Houston shower doors and walls. These let in plenty of light and can still help your bathroom maintain a sleek look.
 If these choices don't fit your vision for your home, you may benefit from a more textured glass. We offer textured glass that comes in a variety of patterns. These glass options can help break up a space to help you achieve a sophisticated look.  If you desire privacy but don't like the look of simple frosted glass, textured glass may be for you. Patterns are available – rain, leaves, vines and more. No matter what option you choose, the team at Shower Doors Inc. can help you make the choice that's best suited to your lifestyle.  
Types of Doors for Your Houston Shower Replacement
There are many different styles of shower doors to choose from for your shower replacement. Some examples include hinged shower doors, which swing outward and open much like the front door of your house. Pivot doors move like hinged doors but use pivots on the top and bottom holding them in place. For pivot Houston shower doors, your shower door must reach from floor to ceiling. In some cases, you may need a frame where the pivot will mount. With our in-depth shower replacement planning sheet, we'll document what you already have, and what options will work.
Another component of choosing a glass shower door that's right for you depends on the space you have to work with. The measurements of your bathroom must be exact for installation or remodel, with enough room to move around comfortably. Another option to consider is a sliding glass door.  Sliding glass doors can save space and are ideal for bathtubs renovations. When choosing an enclosure for your space, keep in mind that sliding Houston shower doors need a large enough space to fit into. 
Shower hardware is another thing to consider when remodeling your bathroom.  Choosing the right hardware can not only improve the look and feel of your bathroom, but it can also impact the functionality and ease of use. Another item to consider when choosing the right glass for your showers, such as children in the home, or for family members who may have issues with mobility or coordination. When you have kids, it may be in your best interest to install a sliding glass door instead of a hinged one because they are simpler to operate, whereas a hinged door could be hefty and unsafe.  For those in your home with ADA or mobility issues, you may consider a piece of fixed glass and an open enclosure for easy access. Our team will be there for you throughout this process and can help you make decisions regarding both safety and design.
When you contact our team at Shower Doors we will work with you to ensure that you get the most from your bathroom oasis. Contact us today for a free quote!