Houston shower replacement is a rewarding project to help you improve your home. Shower replacement can be part of a total bathroom remodel or may be a one-off project to help you beautify your space. In this article, we'll discuss some signs that you might need to redo your shower and some tips from our shower door experts. 
Signs You Need Houston Shower Replacement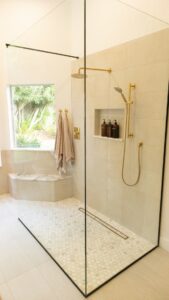 There are many reasons you might consider shower replacement. These projects might include retiling the shower walls, updating fixtures, or simply installing new Houston shower doors for a more sleek and modern look. The scope of your project depends on your reasons for updating your shower. 
It may be time to update your shower if you simply don't like the look anymore. Maybe you went with the latest trend from several years ago that, unfortunately, hasn't aged well. Or, maybe you didn't like the shower when you moved in and now you're ready to replace it. Whatever the case, if the sight of your shower makes you cringe, you're probably overdue for Houston shower replacement. 
Another reason you might want to update your shower is for functionality. Over time, showers do experience wear and tear that can cause issues. For instance, if your shower leaks or develops a mold problem, you might need to replace your shower to fix the problem. Also, like other shower materials, your shower glass may also wear out over time. Old shower doors may not open or close easily, the glass may become discolored or etched, or you might even notice small chips in the glass. These are all reasons to promptly replace your shower doors with newer options. 
Options for Houston Shower Doors
If you're taking on a shower replacement project, there's no lack of inspiration for a new shower online. If you already have a vision in mind, our team can help you find the right shower glass options to fit. 
However, many people need help choosing between the variety of options for shower glass. Therefore, let's break down some of the many options for your new Houston shower glass door. 
The first thing to decide is whether you like framed or frameless glass. Framed glass is more traditional and allows you to use thinner glass. On the other hand, frameless helps your bathroom look more open and modern. It also requires thicker glass for stability.
You will also need to choose the type of glass. The most popular option is clear glass to show off tile work and make your bathroom look more spacious. However, for added privacy, many homeowners choose textured or frosted glass, which come in a wide range of patterns to choose from. Some options include texture that looks like rain drops or even clear satin. Check out the types of shower glass we offer to choose the right one for your Houston shower replacement project. 
Beautiful, High Quality Showers from Shower Doors Inc.
When you need quality shower glass in Houston or College Station, you can depend on our experts at Shower Doors Inc. Our team specializes in creating gorgeous shower doors and enclosures. We provide fine craftsmanship and the best quality materials to help you create a gorgeous, lasting, and durable shower for your home. Contact us today to request a quote from our pros!