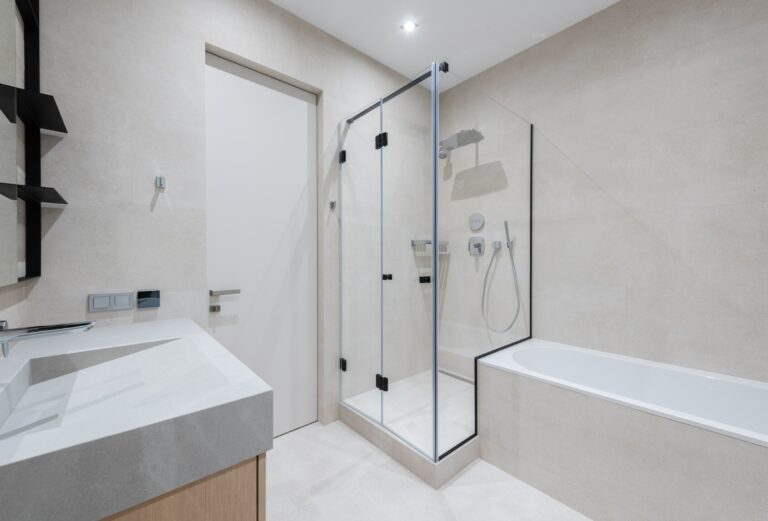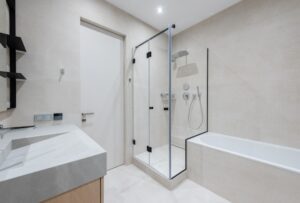 Upgrading your bathroom can be as simple as installing new glass shower doors for your shower. This has become an incredibly popular option to enhance the look of your bathroom and also add value to your home. If you're considering installing a shower enclosure, there are many things to think about. Glass showers are completely customizable to suit your style, taste, and bathroom. Not sure where to begin with designing your shower enclosure and doors? We have a few simple tips to help you get started.
Why are Glass Shower Doors So Popular?
First, let's talk about why you should upgrade to glass shower enclosures in your home. Compared to shower curtains, glass doors and enclosures offer the following benefits:
Cleaning is easier

They make your bathroom look bigger

More light comes into your shower

They look more modern

Water stays inside the shower better

They can be customized for any shower

Glass enclosures and doors increase home resale value
Many homeowners in Houston, College Station, and around the nation are ditching their old, moldy shower curtains for the sleek, low-maintenance option of glass for these reasons and more. Another great benefit of glass enclosures and doors is that you can design them to perfectly fit your bathroom and décor. 
Designing Shower Doors and Enclosures
If you've already started looking through pictures of shower enclosures, then you have probably noticed that practically no two enclosures look exactly the same. You can get a completely bespoke enclosure that perfectly suits your bathroom, aesthetic, and your needs. This is a great thing, but it can also be difficult to know where to start with your design. You might have a few must-haves in mind, but what about the other design elements? Of course, our team can help you find options and guide you through the design process. However, there are some general things to keep in mind as you consider what your new shower doors and enclosure will look like.
Choosing a Shape for Glass Shower Enclosures
One of the first things to map out for your new glass shower enclosure is the shape of the shower. For some, this will be pretty easy, while others might be starting from scratch. If you already have a shower and you're just upgrading the doors and shower walls, then you can skip to planning other design elements. However, if you're planning to create a new walk-in shower or modify the shape of your current shower, then deciding on the shape is one of the first things you should do. 
Shower enclosures can be shaped like practically anything. However, in most cases, you want to stick to 90°, 135°, or 180° angles. These are standard angles for shower enclosures because they help ensure that the can doors move without issue. Also, it's easier to get into the nooks and crannies of showers with larger angles for proper cleaning.
Most homeowners place shower enclosures in the corner of the room, using the two walls of the room as the walls of the shower. Then, most enclosures feature fixed panels and doors to make up the rest of the enclosure. There are a few options for this. You can create a 90° angle out of the glass to make a square or rectangular enclosure. Others build an additional wall so that all that's needed is a door to allow access to the shower. Another option is to create a neo-angle shower, which features two fixed panels and a door with 135° angles. This creates a diamond-like shape, almost like the shape of a baseball plate. 
Knowing the shape of the enclosure helps you understand what types of panels and doors you need. From there, you can get to work choosing other options to create a gorgeous enclosure for your bathroom.
Types of Opening Methods
Another thing to think about is how you want your shower doors to open. The two main options are outward-opening doors and sliding doors. Doors with hinges or pivot hardware must open outward according to most building codes. They also typically need to be able to open without any obstructions. Outward-opening doors are some of the most common and allow for wider openings so you can enter and exit the shower with ease. 
Sliding doors, by contrast, slide from side to side to allow you access. These are a good option if you have limited space in your bathroom or if something like your sink or toilet blocks you from being able to open a hinged door fully. These doors are space savers, but keep in mind that they do typically limit how wide the entrance is to your shower more than a hinged door will. 
Framed or Frameless Showers?
The next thing to think about is should you choose framed or frameless glass? Frameless showers are more popular and are quickly becoming the standard for bathroom upgrades. This is because metal frames around your glass doors and panels can be more difficult to clean and can interrupt lines of sight, which can make your bathroom look smaller compared to frameless glass. However, framed options do typically cost less than frameless doors and enclosures. 
Frameless shower enclosures are incredibly modern and help give a spa-like feel to your bathroom. They are often easier to clean and use minimal hardware to help your bathroom feel more open. 
Types of Glass
Once you have an idea of the shape of your shower and the type of doors you would like, next you'll need to choose the type of glass that works best for your bathroom. Clear glass is certainly an option and can help show off gorgeous tile work in your shower enclosure. It also gives the most illusion of space because your eye looks right through it. However, it does lack privacy, which is why many people opt for textured or frosted options. 
If you're looking for a little more privacy than clear glass, or simply like the idea of adding additional visual elements in the glass itself, then you might choose textured glass. These are etched with various patterns to make them less see-through. There are many different types of glass to choose for your shower. Some are more transparent than others and each can help add visual interest for your enclosure.
Choosing the Right Hardware for Shower Doors
Let's not forget the hardware! Hardware is often one of the last things people pick out for their shower enclosures and doors, but that doesn't mean it's not important.
Hardware makes your enclosure and doors function and can help create a cohesive design in your bathroom. Handles, hinges, towel bars, robe hooks, and other hardware come in a variety of shapes and sizes to suit your style.
In addition, you can choose from a huge selection of finishes. Most people choose a hardware finish that matches their other bathroom fixtures, like faucets and handles. However, we are here to help you customize your shower in any way your heart desires.
Call Our Experts for Measurements and a Quote at Shower Doors Inc!
Get show-stopping shower doors with the help of our experts at Shower Doors Inc. We prioritize craftsmanship and quality to help you add the most value for your home. Our team works with homeowners all over Greater Houston and College Station to create gorgeous showers with high quality glass. Let us help you design the perfect enclosure and upgrade your bathroom today. Call us at (281) 253-0701 to learn more and request a free quote!