Installing a Sliding Tub Door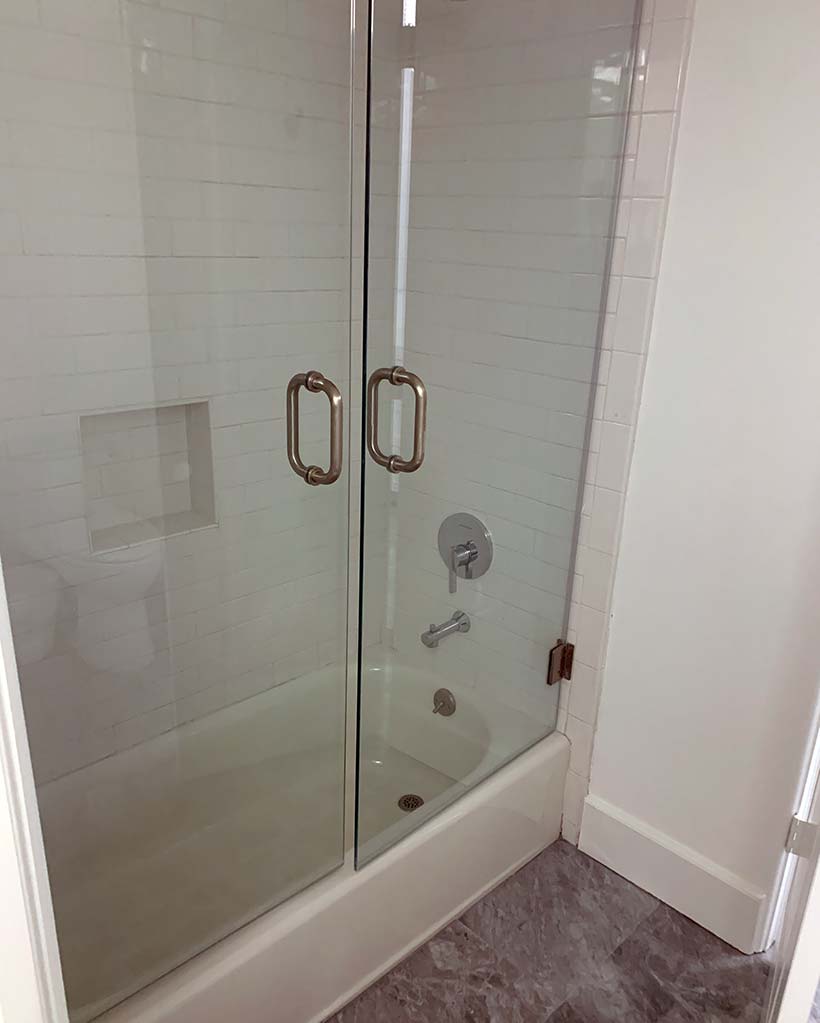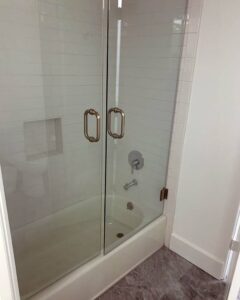 Are you looking to enhance your showering experience? Installing a new sliding shower door on an existing bathtub can increase your home value, beautify your space, creating a pleasant oasis at home. Houston's Shower Doors Inc offers a wide variety of glass shower products and an amazing array of shower glass to update any home's master or auxiliary bathrooms with tubs!
Let's face it, shower curtains are no fun especially when climbing in and out of a bathtub. They are also a hassle to keep clean, and they don't always keep the water in the tub, especially where children are involved. Installing a new sliding shower door on an existing bathtub can remedy all of these pesky things a shower curtain can't solve – and more!
Shower Doors allow for more Privacy & Accessibility
Shower doors offer greater seclusion and superior privacy compared to shower curtains. With a shower door you can easily avoid prying hands of kids, snouts of pets and any other items that maybe pawning for your attention. With a new sliding shower door, you can truly feel relaxed and tranquil within the comfort of your own home.
Keep in mind while choosing the right sliding shower door for your home,  the age of those within the household that will be using the tub. Sliding shower doors often offer a sense of ease for both children as well as the elderly because they glide with ease, helping make the transition from tub to tile easier for just about anyone.
Less Mess with Sliding Shower Doors
One of the most beneficial aspects of adding a sliding shower door is the reduced mess! No longer will you have to worry about a shower liner staying in the tub or a puddle of water waiting for you as soon as you step of the tub. The likeliness of puddles diminishes the risk of a shower-related slip and falls in a bathroom. If water on the floor is a regular occurrence, a sliding shower door may be the right solution for you. Sliding bathtub doors are also incredibly easy to clean and keep a vast majority of water within your shower enclosure. If you are seeking information regarding how to clean your shower door, check out these suggestions for how to clean a glass shower. All in all, shower doors are easy to maintain and outlast their competitor, the shower curtain.
Home Bathroom Oasis Opportunity
Updating the bathrooms in your home can increase home value while creating an easier clean in your bathrooms. Shower glass allows for customization to fit any home decor plan. Glass shower enclosures or sliders can create the illusion of a larger bathroom and who doesn't want that? With so many options when it comes to the design and opacity of the glass, custom design opportunities are endless. Some but not all options include: Bubbles, Coral, Forest, Krystal Flutex, Krystal Glacier, Krystal Rain, Krystal Serenity, Krystal Storm, Master Carre, Paint, Pattern Blue Chip and Satin.  There's a glass type of any type of installation.
Beautifying your bathroom is simple with Shower Doors Inc. We offer quality shower glass services for the Greater Houston area, and are here to help you create a luxurious shower for your space. Our well-seasoned team can help design the perfect shower or bathtub enclosures to suit your décor and budget.  Get a quote for shower glass from our experts today!