Houston sliding shower doors are the ideal option for smaller bathrooms. Also known as bypass doors, this type of shower door offers many benefits for your bathroom. If you're installing a new shower or upgrading an existing shower, consider sliding doors for your home. One important thing to consider for your sliding shower doors is whether you want framed or frameless glass. In this article, we'll discuss sliding doors for showers and some pros and cons of framed, semi frameless, and frameless sliding shower door options. 
What are Houston Sliding Shower Doors?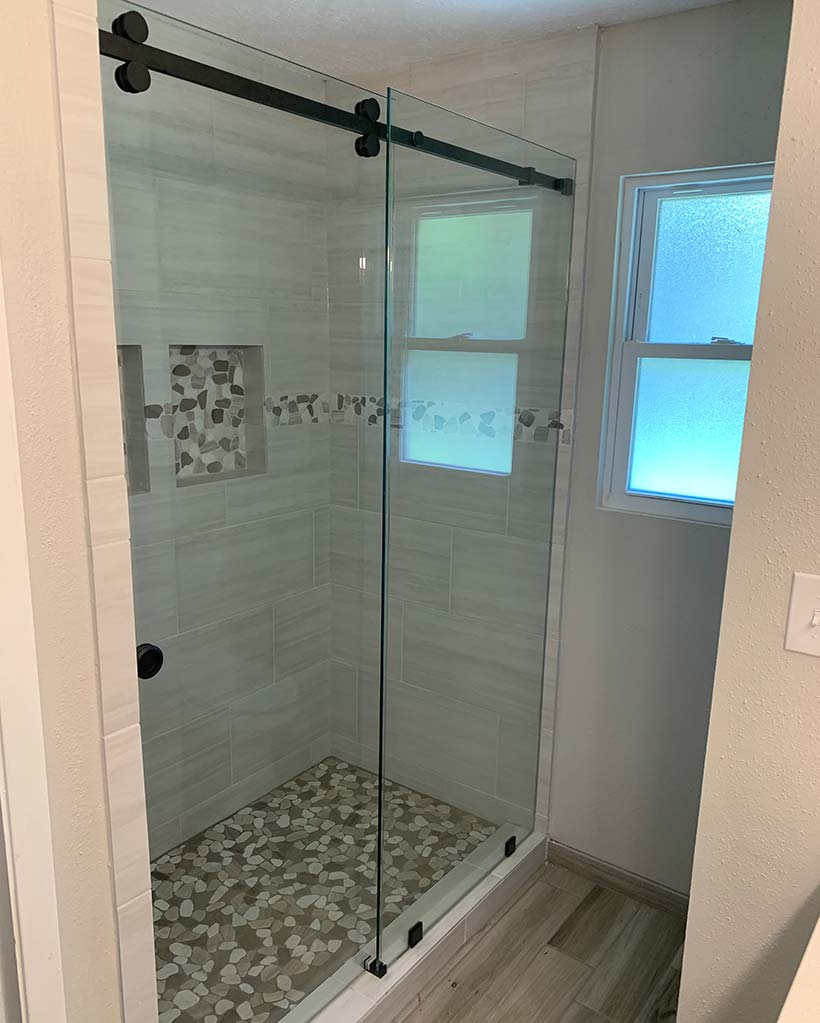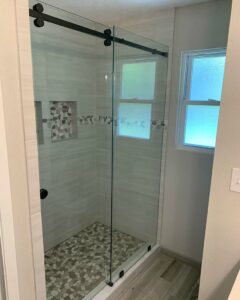 Houston sliding shower doors are a common option for your home. These are glass doors that slide from side to side to allow access to your shower, rather than opening outward. They use different hardware than pivot or hinged shower doors. This allows you to take advantage of gorgeous shower glass for practically any shower. 
Bypass doors are one of the most common options for Houston shower doors for a tub. Whether you want to create an enclosure for your alcove tub or want to ditch the shower curtain for your shower/tub combo, most people prefer sliding doors compared to hinged or pivot doors. They are often perfect for standard bathtub wide openings, which are typically five feet wide. However, sliding shower doors are also a great option for walk-in showers.
The key to remember is that you need a wide enough opening to the shower to use sliding options. Houston sliding shower doors basically cut the opening in half. Most building codes require doors to be at least 22 inches wide, though they can be as wide as 36 inches. Therefore, the smallest opening where you can install sliding doors is an opening that is 44 inches. Consider not only these minimums, but also your comfort, and how wide the door needs to be to allow you inside and out. 
Another thing to consider for your sliding shower doors is whether you want just one or both of the door panels to move. You can use a fixed panel and leave just one glass door to slide from side to side. However, you can also install shower doors where both glass panels slide from side to side, which allows you to enter the shower from either side. 
Advantages of Houston Sliding Shower Doors
Now we know what Houston sliding shower doors are and some of the ways to customize them, let's discuss why you might want to install these gorgeous doors for your shower. We mentioned it briefly, but these shower doors are a space saving solution for small bathrooms. With hinged or pivot shower doors, they must open outward. This means you have to have plenty of free floor space in front of the shower. So, whether you have little floor space or there's just an inconveniently located toilet, vanity, or other bathroom fixture, you often can't use these doors. They must be able to swing freely open not only for ease of use, but according to building codes. 
Houston sliding shower doors don't require any free floor space in front of them. Because they slide from side to side, you can use these doors where otherwise you wouldn't be able to. That means you can ditch that flimsy, moldy shower curtain even if you're not blessed with a large, open bathroom floor plan. 
Another reason to install sliding glass doors for your shower is that they are much easier to clean compared to shower curtains. Shower curtains are typically made of fabric, which can absorb water and encourage mold and mildew growth. Unfortunately, they can be incredibly difficult to clean, even in your washing machine. This puts your shower at risk for stains and germs. Also, it looks bad and can even cause health problems for people sensitive to mold. Instead, glass shower doors are simple to clean by wiping down with your favorite glass cleaner. 
In addition, glass doors for your shower are just gorgeous. They allow plenty of light in and also make your bathroom look bigger. Shower glass is essential for any modern, luxurious bathroom.
Why Install Sliding Houston Frameless Showers
Houston frameless showers are becoming more and more popular. They look incredibly modern and elegant. These are glass panels that don't use any metal framing around the perimeter of the glass. You might be familiar with frameless shower doors in corner enclosures with hinged or pivot doors. However, you can also choose frameless shower doors in sliding or bypass options. 
Compared to framed options, frameless shower doors don't interrupt the visual of your bathroom. This means there's less separation between your shower and the rest of your bathroom, making it look even bigger. These doors also look much more modern, as they are a newer technology in the shower glass arena. Just keep in mind that they do require thicker glass because there's no support around the edge of the glass, so they may be a more expensive option compared to some of the other types of sliding shower doors. 
In most cases, frameless sliding shower doors slide from hardware just on the top of the door. Most of these showers use barn door hardware to slide the glass from side to side. This involves installing a metal rail at the top of the shower and also installing brackets onto the glass itself. The brackets connect to small wheels that roll back and forth on the top rail. Because the hardware is primarily at the top, there's no need to worry about water and debris building up in a bottom track.
Benefits of Semi Frameless Houston Sliding Shower Doors
Semi frameless Houston sliding shower doors offer a compromise between framed and frameless glass. These typically feature metal frames on the top and bottom of the glass for support, but not on the sides. This reduces the visual interruptions, but allows you to potentially use thinner glass compared to sliding doors for Houston frameless showers. 
Because these doors use frames on the top and bottom, they can be a little easier to install compared to frameless options, which may help if you're on a budget. In most cases, these doors use sliding tracks on the top and bottom to keep the doors in place. However, this also means the bottom track can be prone to accumulating water, soap scum, and grime, so they can be harder to clean than frameless options.
Perks of Framed Houston Sliding Shower Doors
Framed sliding shower doors are some of the most economical. These doors look like a picture frame, with metal framing on the top, bottom, and both sides of the glass. Framed shower doors can often use thinner glass because of the extra support the frame provides. However, keep in mind that these can look somewhat outdated and often make your bathroom look smaller than frameless glass would. 
These are one of the easiest sliding shower doors to install. Like the semi frameless sliding doors, they generally use sliding tracks on top and bottom. Those bottom tracks plus the nooks and crannies of the frames can make these one of the hardest options to clean, but still much better than trying to clean a shower curtain. 
Custom Shower Glass from Shower Doors Inc.
Our team at Shower Glass Inc. is here to transform your shower with gorgeous glass options. We design and install custom shower doors and enclosures to suit your needs. Our team can help you measure and design a shower perfectly tailored to your bathroom and décor. We guarantee quality craftsmanship for all of our work. Get in touch now for a free quote for your shower.